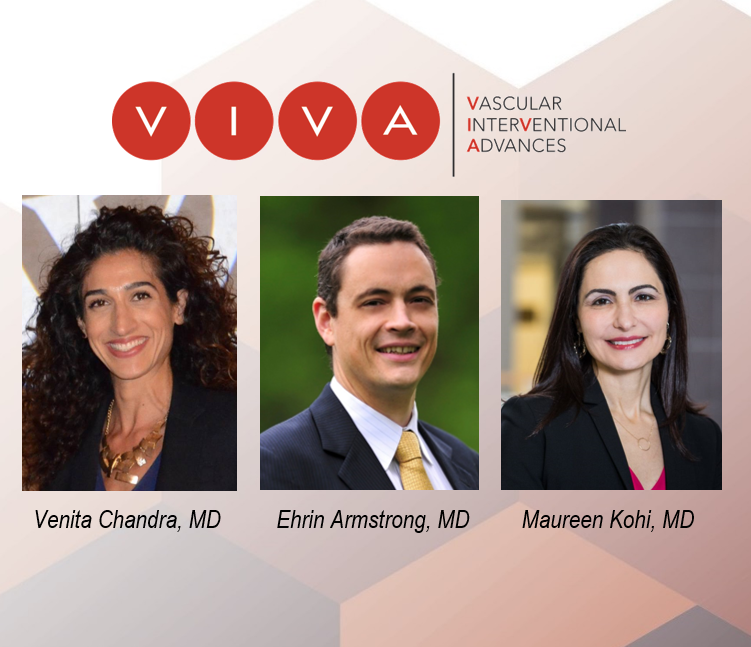 June 10, 2020
VIVA Physicians Welcomes New Members, Dr. Venita Chandra; Dr. Ehrin Armstrong; and Dr. Maureen Kohi to Board of Directors
VIVA Physicians, a not-for-profit organization dedicated to advancing the field of vascular medicine and intervention through education, advocacy, and research, is pleased to announce three new members to its Board of Directors. Drs. Venita Chandra, Ehrin Armstrong, and Maureen Kohi are welcome additions who bring a wealth of knowledge and experience to the field. Their diverse perspectives enhance VIVA's multidisciplinary approach to providing innovative and transformative conferences, advocacy efforts and research projects.
Venita Chandra, MD, is currently a Clinical Associate Professor of Surgery in the Division of Vascular Surgery at Stanford University Medical Center; the Medical Director of the Stanford Advanced Wound Center; the Associate Program Director of the Vascular Surgery Fellowship; and the Founder of the Stanford Extremity Preservation Program. Earning her bachelor's degree in genetics and cell biology Summa Cum Laude, from the University of Minnesota, Dr. Chandra went onto receive her medical degree from the University of Chicago's Pritzker School of Medicine and was elected to the Alpha Omega Alpha Honor Society.
Dr. Chandra completed her general surgery residency at Stanford in 2011 and is a graduate of the Stanford Biodesign program. She continued on to complete the Stanford Vascular Surgery Fellowship. She is double boarded in general and vascular surgery. Dr. Chandra's research and clinical interests include women's vascular health; limb salvage; technology development and treatment optimization for complex open; and endovascular approaches to peripheral vascular and aneurysmal disease.
Ehrin Armstrong, MD, is a Professor of Medicine at the University of Colorado School of Medicine, and Director of Interventional Cardiology at the Rocky Mountain Regional VA Medical Center. Receiving his medical training from Harvard Medical School, Dr. Armstrong completed his residency program at Massachusetts General Hospital in internal medicine. His first fellowship was at the University of California, San Francisco in cardiovascular disease, followed up with two fellowships from the University of California, Davis in vascular and endovascular medicine and in interventional cardiology.
Dr. Armstrong's clinical practice includes the endovascular treatment of advanced peripheral artery disease, such as carotid artery stenting, endovascular aortic repair, and complex techniques for limb salvage in patients with critical limb ischemia. His research interests include optimal medical therapy of patients with critical limb ischemia, comparative outcomes of endovascular interventions, and the development of novel coronary and endovascular techniques. He runs a large clinical trials group that conducts multiple trials of novel endovascular devices.
Maureen Kohi, MD, is an Associate Professor of Clinical Radiology and Chief of Interventional Radiology at the Department of Radiology and Biomedical Imaging at the University of California, San Francisco. Dr. Kohi received her medical degree from New York Medical College with honors and completed her diagnostic radiology residency at UCSF. While a resident, Dr. Kohi completed a one-year research fellowship as the recipient of the NIH/NIBIB T32 Training Grant in 2009. Before joining the faculty in the Vascular and Interventional Radiology Division at UCSF, Dr. Kohi completed two fellowships at UCSF: one in vascular and interventional radiology, and in women's imaging.
Dr. Kohi's primary research interest is in the field of women's health and interventions. Her research focuses on evaluating different minimally invasive treatment options for symptomatic uterine fibroids, optimizing the management of patients presenting with invasive placenta, and evaluating gender differences in vascular and oncologic diseases. Her clinical research and interests also include interventional oncology, hepatobiliary disease interventions, and inferior vena cava filters.