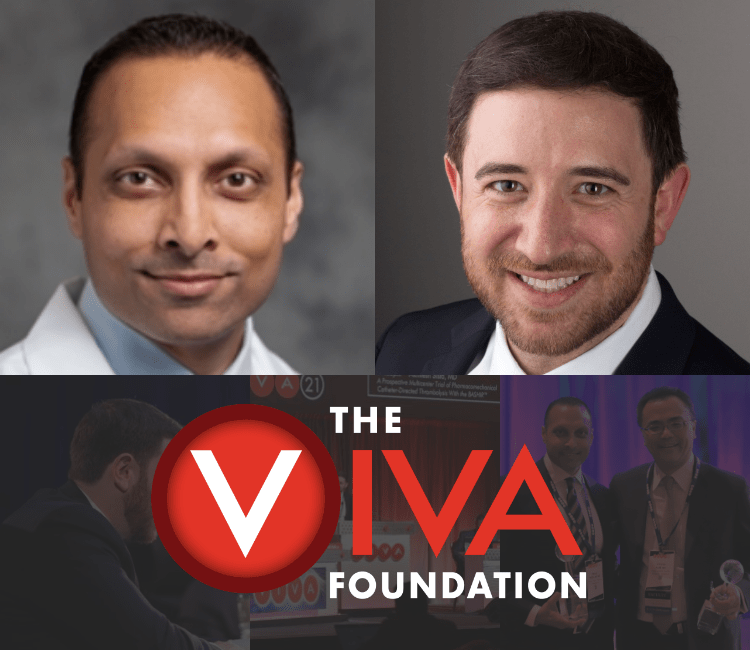 July 7, 2022
The VIVA Foundation Is Pleased to Announce the Appointment of Dr. Parag J. Patel and Dr. Eric A. Secemsky to the Board of Directors Effective July 1, 2022
The VIVA Foundation, a not-for-profit organization dedicated to advancing the field of vascular medicine and intervention through education, advocacy, and research, has appointed Parag J. Patel, MD, MS; and Eric A. Secemsky, MD, MSc, as the newest members of the Board of Directors.
Drs. Patel and Secemsky have been valued partners of The VIVA Foundation for several years serving as VIVA faculty members, with Dr. Secemsky also serving on the VIVA22 Steering Committee. They have both been recipients of the Vascular Career Advancement Award, Dr. Patel in 2019-20 and Dr. Secemsky in 2021-22. Their wealth of knowledge and experience will enhance The VIVA Foundation's ongoing educational conferences, advocacy efforts, and research projects.
Dr. Parag J. Patel is a Professor of Radiology and Surgery in the Division of Vascular & Interventional Radiology at the Medical College of Wisconsin (MCW) and Froedtert Memorial Lutheran Hospital in Milwaukee, Wisconsin. He is the Program Director of the Interventional Radiology Residency training programs at MCW. He also serves as the current President of the Society of Interventional Radiology.
Dr. Patel completed his Diagnostic Radiology Residency at Loyola University Medical Center in 2007 and Vascular & Interventional Radiology Fellowship at Miami Cardiac & Vascular Institute in Miami, Florida. He joined the faculty at MCW in 2008.
Dr. Patel's areas of clinical interest include embolization therapies as well as evaluation and endovascular treatment of peripheral vascular disease, complex aortic disease, and venous disease. He has been an invited speaker at numerous national and international conferences and has authored several book chapters in the field of Interventional Radiology.
Dr. Eric A. Secemsky is the Director of Vascular Intervention in the CardioVascular Institute at Beth Israel Deaconess Medical Center, Director of Vascular Research at the Smith Center for Outcomes Research in Cardiology, and an Assistant Professor of Medicine at Harvard Medical School.
Dr. Secemsky's clinical expertise is in interventional cardiology, and vascular medicine and intervention. His research focuses on the comparative effectiveness of coronary and vascular therapies, with an emphasis on the use of novel statistical methods. He also examines outcomes related to cardiovascular disorders and the use of risk prediction models to guide treatment decisions. He has authored more than 150 peer-reviewed publications and has lectured nationally and internationally on his research. His research is funded by the NIH, Harvard Medical School, philanthropy, and extramural grants. He chairs the research committee of the PERT Consortium. He also serves as an Associate Editor of Vascular Medicine and on the Editorial Board of Circulation: Cardiovascular Intervention.